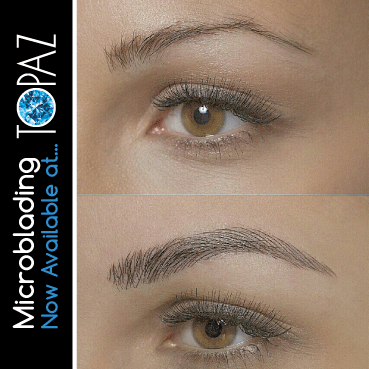 WHAT IS MICROBLADING?
Microblading is a way of implanting pigment under the epidermis using a specially designed tiny blade which leaves thin realistic hair strokes for the most natural finish possible in semi-permanent makeup.
Together, you and Viktorija design a brow which is totally bespoke to you – your colour will be mixed from high quality pigments just for you. With this method, Viktorija can create almost any look, from a very natural light finish or a beautifully bold brow. Sparse or missing brows can be completely restored. When using the hand held microblade, the colour is deposited closer to the surface than when a machine is used, leaving very fine and crisp hair strokes with no spilling under the skin.
The cost is £125 for the initial treatment plus £85 for the necessary follow up treatment four weeks later (at which time you can amend the colour or shape). The results will then last approximately one year.
It's a perfect treatment for anyone looking to improve or enhance the appearance of their eyebrows!
A sensitivity (patch) test is necessary for micro-blading, as is completion of a consent form and payment of a deposit.
The deposit and consent form can be completed electronically if preferred, but you will need to call in to the salon at least 48 hours before your appointment for your patch test.
You will require 2 treatments to complete
this procedure. Your second appointment must be 4 weeks after the first appointment.
We ask that you give at least 48 hours notice if you'd like to cancel or change a microblading appointment.
Your deposit (payable when you book the appointment) is non-refundable or transferable if less than 48 hours notice is given.
THE EYEBROWS YOU'VE ALWAYS WANTED
by Viktorija @ Topaz
We're delighted to have been the first salon
in Ipswich to be registered with the council specifically for microblading rather than standard
semi-permanent makeup! Appointments will be available in our new beauty room from
October 2016
Micro-blading appointments will be available in our new beauty room
from October 2016